Africans, native Americans and Chicano people – these are the people that have such deep stories to tell,  but rarely get the spotlight.
The youth of these cultures especially have it hard. Whether they are in between two cultures, or struggling to fit into just one, they work hard to merely have their voices heard and be known.
That's why when international locals start to create music, its powerful. It tells the story of the places they came from, their years of experience and deepens the livelihood of those around them.
In the video below, the Visual Audio Club, a progressive multimedia and educational experience, told the stories of just a few budding, talented immigrants and children of immigrants right here in Denver. This city has an overwhelming number of international voices that Coloradans would be desperate to hear.
Meet these Denver locals making waves, vocally, inspirationally, creatively, memorably:
Ezana Tesfamarian, "Eazy Blank" (orignally from Ethiopia)
Ruben Saldivar-Romero (Chicano)
Shewit Hailu (Ethiopia)
Diego Florez-Arroyo, "Astro Revolution" (Chicano)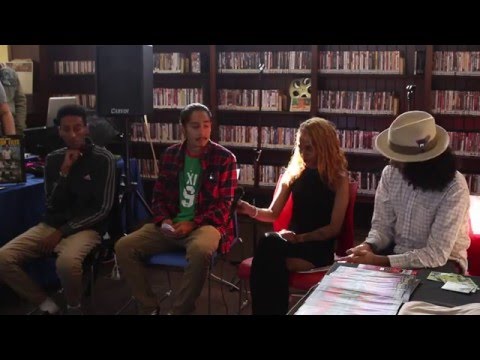 This video was taped in October 2015.
If you want to know more about each of these artists, check out these videos by Youth on Record, who has been training and offering mentorship for them, as well as countless other youth in Denver.
More about the Visual Audio Club
The Visual Audio Club is a progressive, educational multimedia production collective that aims to bring international and diverse voices to the forefront. Hopefully, our productions help guide our culture in Denver.
We are new, and only just forming as a collective between Denver Public Library's cultural outreach, KGNU Radio 88.5FM/1390AM oral history project and GlobalColoradoNews.net news website.
The Visual Audio Club not only wants to bring voice to those that make up such a diverse culture in Denver, we also are trying to bring mainstream audiences back into alternative media, in order to alter the course of culture to be more deep-rooted and aware. This production, as well as the music in this production, are intended to bring about enlightenment and change for a more peaceful and inclusive community.
Through live events, radio, television and online video, the Visual Audio Club hopes to bring All internationally concerned, yet locally active, community members to participate in, learn from and be entertained by underground and international music and culture of Denver, Colorado.
So far, we are:
Yolanda Chichester of Denver Public Library's Byers Branch
Dave Ashton, Denver program manager at KGNU Community Radio 88.5FM/1390AM
Diana Aqra, local writer and producer of the GlobalColoradoNews.net website and the video above
DJ Alisha B
Tyler Breuer, director of programs, Youth on Record
Denver Open Media
Can we bring more?
Community organizations, media outlets, nonprofits, museums, etc, join us if you would like to be part of the community or tell us that you want more of this type of programming.   Please send your comments and stories/videos via this webpage:
http://globalcoloradonews.net/contact/