The Monsanto Movement is gaining intense momentum  – and it's not only against the monopolization and mono-culturing of food production.
Hundreds of protesters came together today for Denver's Millions Against Monsanto march; many of whom came to promote the values of self-sufficient communities.
Groups like Avalon Organic Gardens & EcoVillage, a 100-member self-sufficient community in Arizona marched miles with their giant banner advocating for self-supporting, citizen-led communities amidst corporate giants, like Monsanto.
Monsanto has been globally accused of monopolizing seed and pesticide production, effectively wiping out agricultural biodiversity as well as small farmers who won't adhere to its profit-fueled, corporate structure.
Companies and government alike have been widely accused of colluding for monetary gains and agricultural simplification. At one point, government may have believed that mon-oculturing was a good way to feed a lot of people in a small amount of time, but the costs and the fears are proving its bad for both the environment and the economy.
This type of corporate-government collusion has now pushed people to even consider printing their own currency. Today, Denver citizens passed out cards that read, "Denver Area's Local Currency," amidst fears of companies like Monsanto are causing both an unsustainable ecological and economic system.
Today was likely one of the largest Monsanto marches around the nation yet.  About 250 cities cities walked outside their homes, in front of businesses and governments to say hey, "we are watching what we eat AND we are watching you."
Clip of the march: 
<p><a href="http://vimeo.com/66982159″>Long March</a> from <a href="http://vimeo.com/user11064028″>Loviniseasy</a> on <a href="http://vimeo.com">Vimeo</a>.</p>
Martin shares at the march: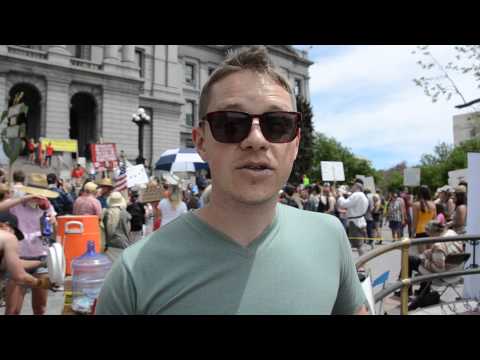 Great description of what Monsanto has done to farmers: