So far, the killing of Naeshchylus Vinzant, 37, last Friday by the Aurora Police Department is based on his criminal record alone.
The Aurora Police Department and and major media are using his criminal background as the only justification of his killing by a police officer on March 6 in Aurora, Colorado.
Aurora Police Department still have not expressed a reason why they shot Vinzant while he was walking on the streets of Aurora last Friday.
In a media briefing Monday, March 9th, Aurora Police's Commander Paul O'Keefe explained that Vinzant had been under fugitive surveillance and took off his ankle monitor on March 2nd, after he had been involved in an assault and domestic violence situation just a few weeks earlier, O'Keefe said.
"Due to his past violent history, the fugitive folks decided to use the services of the APD SWAT Team and DART Team, which both have a high degree of special weapons and tactics and dealing with high-risk individuals," O'Keefe said at the briefing.
"Members of SWAT attempted to take Vinzant into custody, at which time one shot was fired and the subject was struck in the chest," said O'Keefe.
There is one civilian witness and officers have no information on what Vinzant was doing that day except that "he was just walking," O'Keefe said in the briefing.
But it is still uncertain why police had to order SWAT and APD in order to arrest Vinzant and exactly why they needed to shoot him.  Only one shot was fired at Vinzant. The police did not express that there was any sort of struggle to arrest him beforehand.
The mother Vinzant's children, his nieces, nephews and Aurora community gathered together in a demonstration on Wednesday evening on the corner of Alameda and Sable to protest his killing.
"We just want to know why he was killed?" the mother of Vinzant's children said.
The daughter of Vinzant was also confused as to what her father did in order to be shot.
"He always took care of us and protected us," she said. "I will never forget my father."
The Police Officer Who Shot Vinzant
An interview with the officer who shot him (whose name is still not being released by APD) is still being conducted, O'Keefe said.  The interview is taking a longer time because the officer has obtained council in order to defend himself, just like any criminal investigation would proceed.
"Any officer-involves shooting begins as a criminal investigation so the officer has a right to have a lawyer and retain council. [We] cannot order him to talk in a criminal investigation," O'Keefe said.
The officer has a right to "work things just as anyone else does." (emphasis used in speech at the briefing)
"Officers always have the opportunity to retain council in every event, and every event that I am aware of, they have."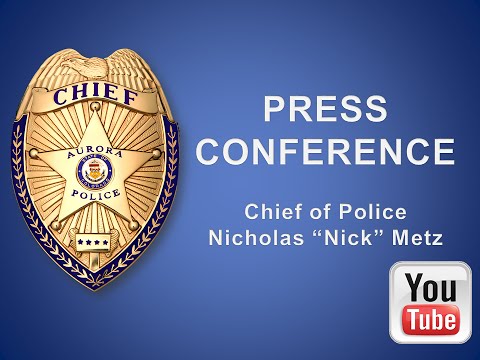 The Investigation
The Jefferson County District Attorney (rather than the Arapahoe County District Attorney) will be undertaking the review of this case, according to Chief of Police Nicholas Metz, because of a potential "conflict of interest with the Arapahoe County's D.A.'s office."
However, there will be an independent review of the Aurora Police department which will include what the training of police officers is, whether or not they followed and technical plans for what happened that, Metz said.
"A comprehensive compliance review including an audit of the use of force by police officers, and the analysis of the organizational structure of the Aurora Police Department," Metz said.
According to the Aurora Police Department, in 2014 as a whole, there were 15 officer-involved shootings where eight were fatal.